About Us
Reliable RIB rental to the dinghy sailing community. Your partner for sailing support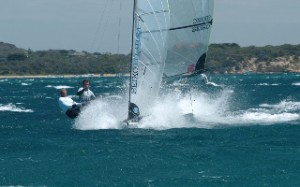 At Port Tack Chater we know what it is like to be a sailor trying to improve.  We fully support the dream of amateur sport and the Olympic ideals.  We are here to focus on the logistics details for you, so you can focus on your sailing.
Life on the world cup circuit can be a challenge.  With multiple locations and countries, logistics can feel like they are driving your campaign instead of the other way around.    We aim to make at least one part of that equation easier – by providing high quality and reliable coach boats to sailors and coaches.  While our boats are all chartered from the UK, we are experts in RIB transportation and will help arrange all of your transport needs to where you want to train and race.
Rib Rentals to Sailors!
The Owner
Ben Remocker
Ben Remocker was a 49er crew who competed in the Betwaite 49er for 11 seasons and competed in 6 world championships. Ben sailed with Gordon Cook for the bulk of his 49er career and together placed 19th at the 2007 World Championships earning a spot at the Olympics and then went on to finish 13th at the 2008 World Championships in Melbourne and 14th at the Olympic Games in Qingdao.  Ben now sails a moth for recreation, now that's an amazing ride!
Gordon and Ben trained with Rob Patterson, now of C Class Catamaran fame and Dan Cunningham who now coaches at the Canadian Sailing Sports Center of Ontario for the first few years on the 49er circuit. From 2007 until the games they trained with Tim Wadlow and Chris Rast of the Alphagraphics US Sailing Team.
Ben grew up sailing laser IIs from the Royal Vancouver Yacht Club placing 2nd in the Canadian Youth Championships in 1995 and 1996. Ben sailed at the time with Peter Spotzl of Spootride fame, and together they won CORK and won a bronze medal at the Canada Summer games in 1997. Peter and Ben initially moved into the 470 but then quickly moved into the 49er buying the 11th boat ever made after Olympic selection in 1996. Ben also briefly sailed the Laser and Laser Radial but preferred sailing double handed.
Ben Remocker was a member of the Queen's Sailing Team from 1997 to 2002. He served as the president in 2000 and was on the team during the 2000 season when for a time they were ranked number 1 on the college rankings. Ben helped to coordinate the fundraising for the new fleet of 420's that were purchased in 2007 in partnership with the Kingston Yacht Club.
Remocker moved to the UK in 2002 and began sailing with Briton Paul Towers of 505 fame mainly on the Solent at Hayling Island Sailing Club, Hamble Sailing Club, and Stokes Bay sailing club. Ben lived in Poole, Dorset sailing at the Poole Yacht Club and in Weymouth.
Ben served as the athlete member to the board of directors of the Canadian Yachting Association from 2006 until 2010 and was a member of the Canadian National Sailing Team from 2005 until 2010. One of Ben Remockers biggest supporters was the PJP Sailing Foundation, now Wind Athletes Canada. Ben was also sponsored by Samson Ropes, Oakley, Velocitek, Silver Jeans, Nova Braid for shock cord.
Ben also set up a sister company called Port Tack Racks that operates through the winter building a robust model of snowmobile rack.  As a sailor, it's always nice to get get up the mountains during the winter time.  After finishing up with professional sailing, snowmobiling became the winter sport of choice.  What's better than snowmobiling… well snowboarding fresh tracks from a snowmobile, which is why we built the snowmobile snowboard mount.  Too bad the snowboarding skills are not quite as killer as could be, but as I was raised a 2 planker I still built a snowmobile ski holder kit so in technical terrain I can still get around.
Ben now lives in Vancouver and started travelling just as much while working as a performance coach to industry for RLG International, working in the Oil and Gas Division.  Life is a little colder now as the Oil and Gas work in Alaska is near Prudhoe Bay, above the Arctic Circle… go ahead and look it up on a map, I dare you!